AGE RELATED MACULAR DEGENERATION (AMD)
What is the AMD?
Macula is the central and most sensitive part of the retina. It is responsible for the central vision, which means for recognising the faces, when we look at somebody, or the letters, when we read. The AMD is a degenerative disease, which affects exactly that part of the retina, causing a declining on the central vision. This disease hat two forms, the dry and the wet. The dry AMD is characterised by damages on the cells of the macula, which progress relatively slowly over the time. The wet AMD is more aggressive. There is fluid under or in the macular layers, which is toxic and leads to quicker damages of the macular cells.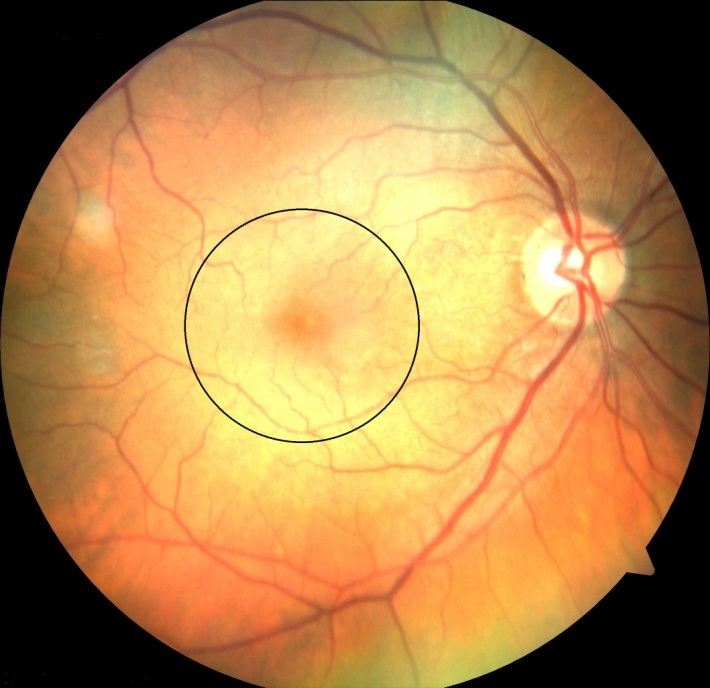 Foto of the posterior pole of a healthy eye. The macula is the region inside the circle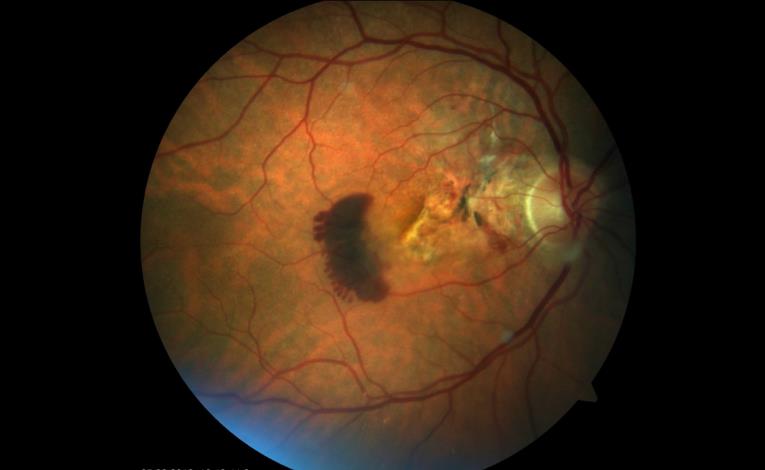 Foto of a macula with wet AMD. We recognise a retinal scar and bleeding
What are the symptoms of the AMD?
The AMD patients can notice:
1. a declining central vision: especially when they read
2.metamorphopsia symptoms: it means, that the lines appear wavy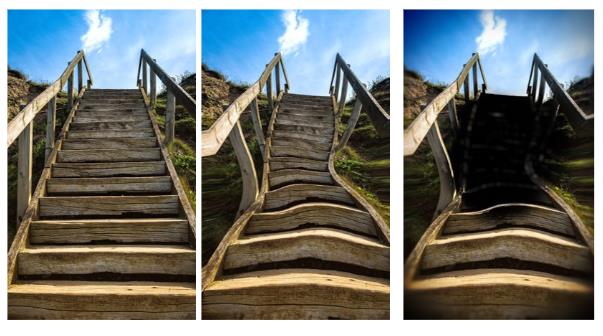 The diagnosis of the AMD
the two most important examinations for the diagnosis of the AMD are:
1.the macula OCT
2. the angiography: either the OCT angiography or the fluorescence angiography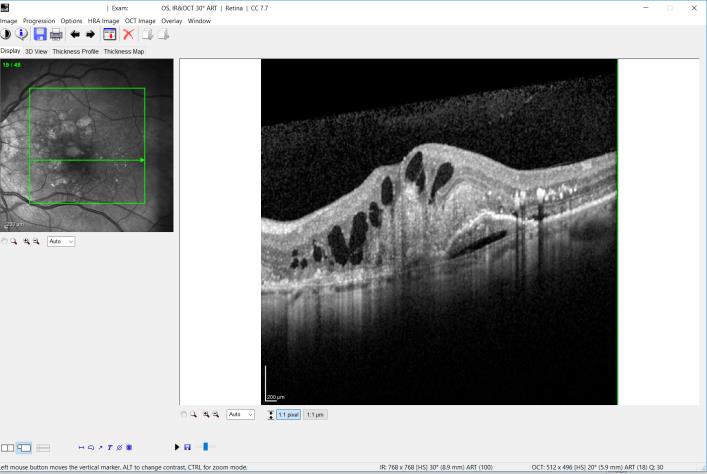 Foto of a macula OCT of a patient with wet AMD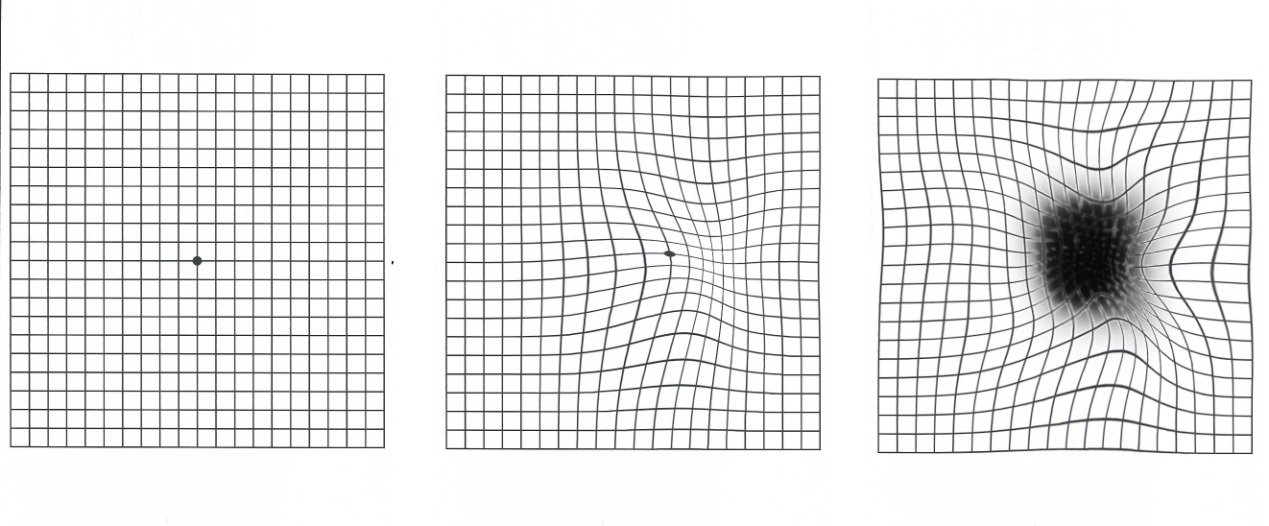 Foto from the amsler test: the left one is the regular one. The central is its appearance with metamorphopsia symptoms. The right one is its appearance with metamorphopsia symptoms and central blurring.


The treatment of the AMD
The patients with a dry AMD must be controlled very closely, because the dry form can transform every moment to a wet one. We suggest that they supplement themselves with antioxidants, either by eating fish and vegetables or by taking vitamin tablets. They should also test themselves once a week with the Amsler Test and be advised to stop smoking, one of the most important risk factors for the severe forms of the AMD. If they have a wet AMD, the treatment of choice are intravitreal injections with some special drugs, which act against the new vessels and the toxic fluid. These injections should be done using special protocols (for example Pro Re Nata or Treat-and-Extend), which should be followed strictly.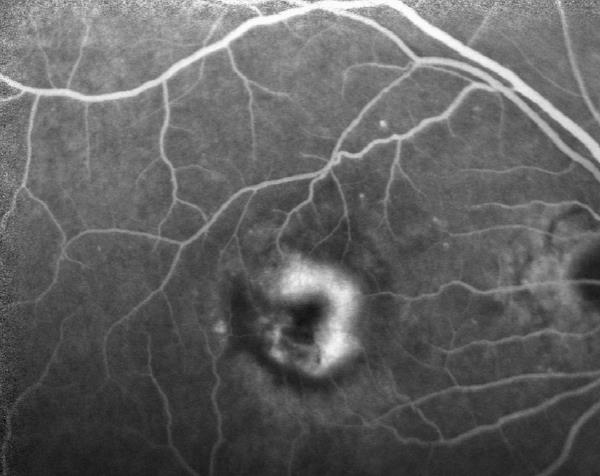 Foto of a wet AMD on the fluroscence angiography. This patient needs intravitreal injection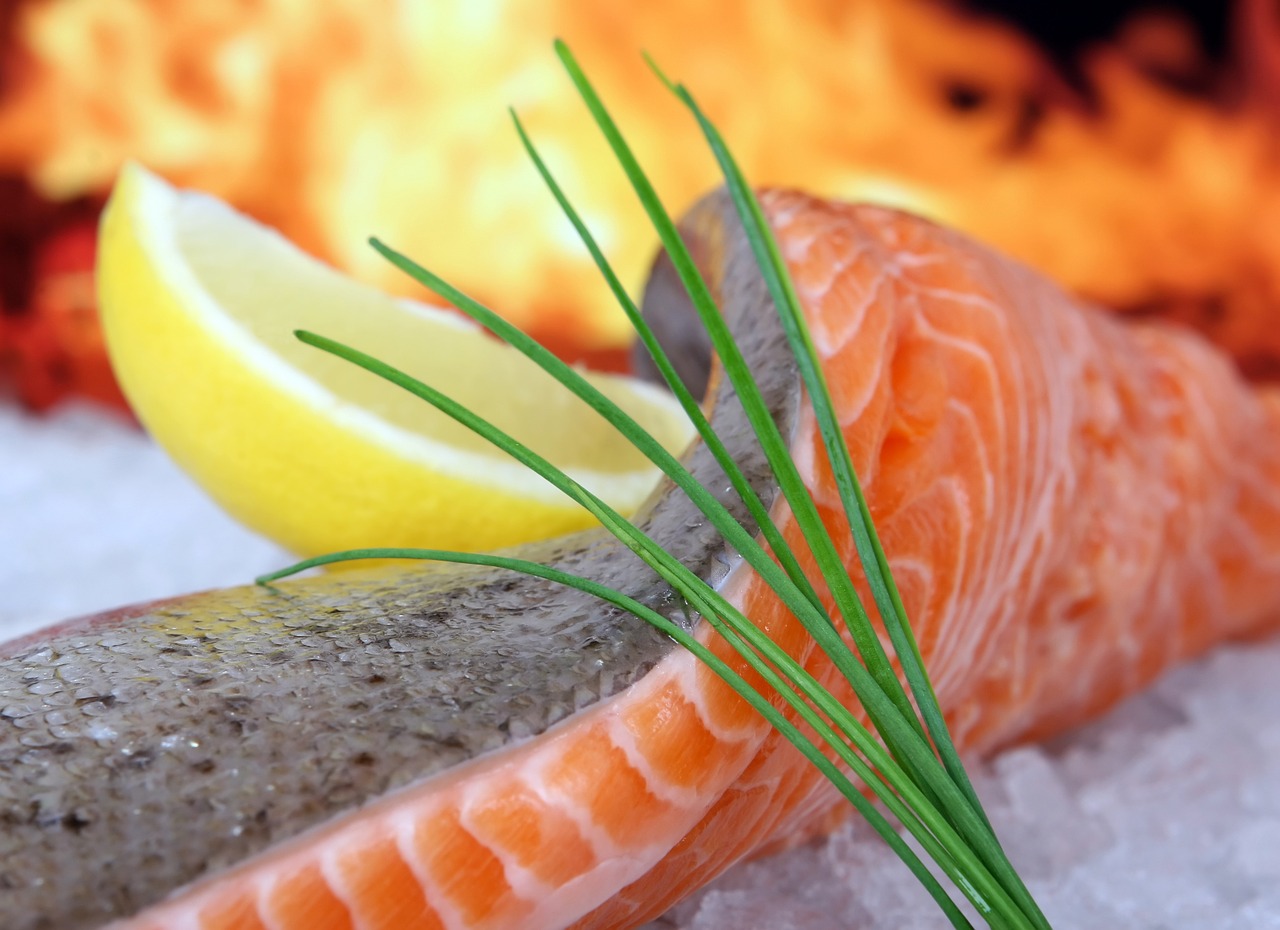 Eating fish and especially salmon helps the AMD patients, because they contain omega 3